July 5, 2023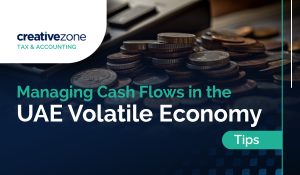 Cash is crucial for the survival of a business. Experts often comment that a business can survive even at a loss, but it cannot survive without cash. A business requires cash for almost everything, from the payment of salaries, taxes, suppliers, and so on. In a volatile economy like the UAE, managing cash flows is important in order to always have cash on hand. However, it is not easy, as we say. This article discusses ways of managing cash flows in the UAE and other volatile economies.
Managing Cash Flows in the UAE Volatile Economy: Tips
Businesses need careful planning and adaptability to maintain cash flows in a volatile economic environment. There are many ways in which a business can manage its cash flows efficiently. However, as every business is not the same, we cannot handle every business the same way. Our tips below are suitable for most small and medium enterprises. Let's discuss key tips below:
1) Forecasting cash flows:
Cash flow forecasting is a necessity for every business. You should forecast your future cash inflows and outflows for a particular period, say a year, in order to plan ahead. In this way, you can make informed business decisions by anticipating any cash shortages or surpluses in the coming period. You can use any software or even MS Excel in order to formulate a cash forecast.
2) Diversification of revenue streams:
In a volatile economy, it can be risky to rely only on a single stream of revenue. Therefore, always strive to look for opportunities in other revenue streams. For instance, businesses should look to expand into new places or markets, introduce new products, or even look for new customers. This will enable businesses to avoid cash crunches even in times of economic instability.
3) Adequate liquidity management:
In order to maintain continuity in business operations, it is crucial to have adequate liquidity. For instance, you can have a side cash reserve for times of cash crunch, or you can have a line of credit ready for such periods. This will ensure the meeting of short-term obligations during periods of cash shortages and thus the continuation of operations.
4) Review credit policies:
For businesses that offer credit to customers, it is beneficial to perform thorough credit checks before issuing credit to them. There should be proper follow-up for credit customers on a regular basis. If any payment is overdue as per the payment terms, the business should follow up quickly. Furthermore, businesses can also offer incentives to customers if they settle payments early. This will improve the cash position of the business.
5) Review Accounts Payable terms:
For businesses, it is beneficial to get early payments from customers and pay later to suppliers. However, this formula might not be practical. Delaying your supplier payments can impact your relations with the suppliers, which in turn can affect your purchases. A streamlined purchase will facilitate the sales of a business. Therefore, keeping in mind all these factors and the sales process, review terms with suppliers that are favorable for business and cash management.
6) Optimize inventory management:
For many businesses, there is a lot of cash that is tied to inventory. Therefore, optimizing inventory management is crucial for the cash management of the business. Keeping excess inventory is expensive for the business as it has holding and storage costs. Thus, businesses need to avoid tying up excessive cash in the form of stock. Businesses should formulate strategies to liquidate slow-moving and obsolete stock. Furthermore, businesses can negotiate just-in-time (JIT) inventory management with suppliers in order to align purchases with sales. This will reduce excessive cash tie-ups in the inventory and also reduce inventory holding costs.
7) Review and adapt cash management strategies:
In volatile economies like that of the UAE, the key to success is to continuously review and adapt to changes. Businesses should continuously evaluate their cash management strategies and adjust them depending on changes in market conditions. Furthermore, you should keep an eye on the developments in economics, government policies, and laws and regulations that may impact your industry. In this way, you can quickly adapt to changing circumstances and thus adjust your cash management strategies.
8) Get advice from a professional:
It is never too late to consult a finance professional who has experience dealing with a volatile economy. In this way, you get professional advice on managing cash flows in a volatile economy that will fit your specific business and industry. A reputable professional firm in this regard is Creative Zone Tax Accounting.
Conclusion:
Managing cash flows in a volatile economy like the UAE is essential for the survival and success of businesses. Cash is the lifeblood of any organization, and without proper cash flow management, even profitable businesses can face challenges. Businesses can enhance their cash flows by forecasting cash flows, diversifying revenue streams, and maintaining adequate liquidity. Furthermore, businesses should also review credit policies and accounts payable terms and optimize their inventory management to enhance cash inflows. Cash management is needed for the survival of businesses; therefore, seeking professional advice is always beneficial.
Enterprises should always strive to review their cash management strategies and adapt to changes on a continuous basis. By implementing these strategies, businesses in the UAE can navigate the challenges of a volatile economy and position themselves for long-term success.
CZTA, your consultant:
Creative Zone Tax Accounting has years of experience formulating strategies for managing cash flows in the volatile economy of the UAE. We know the client's needs, and we are also aware of the circumstances of businesses in the UAE environment. Therefore, hiring CZTA as your financial consultant is not a bad idea. Just give us a call; we are always ready to serve our clients. Contact us now.