January 11, 2022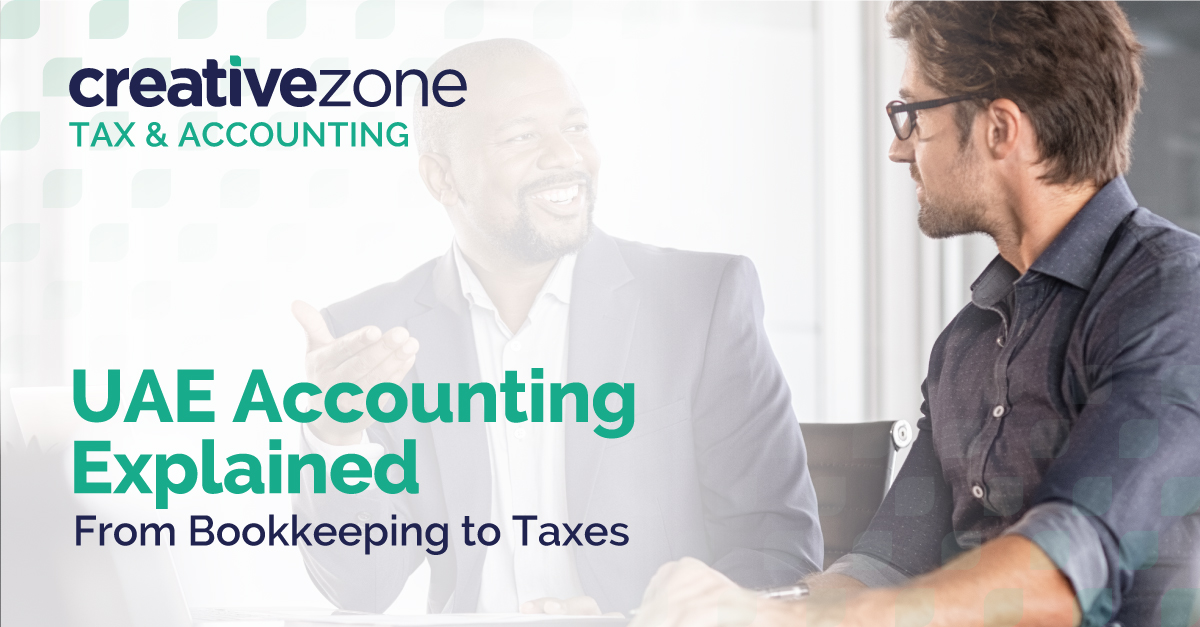 The minimum viable product should be something you are proud of when it is ready. Your pitch deck takes up your late nights. There's a good chance that you don't wonder, "Will my books balance?" at night. You need to find a technical cofounder or determine your cash runway before you need to worry about accounting and bookkeeping. But that does not mean it doesn't play a vital role in the health of your business. Additionally, how would you budget another salary or figure out your cash runway without accounting?
If you are a startup or an established business in UAE, this article will help you keep track of your finances and address some surprising advantages of knowing your numbers.
How's Accounting Different From Bookkeeping?
There are some similarities between bookkeeping and accounting, but they are not exactly the same. All financial transactions — mainly income and expenses — are tracked through bookkeeping. Historically, the term refers to tracking finances on paper books during the days of antique businesses.
In accounting, you interpret your financial records to make strategic decisions about your business, from ensuring you pay the correct amount in taxes to the Federal Tax Authority to ensure you pay your tax obligations on time.
The success of any business depends on thorough bookkeeping and accounting, but you might need to keep additional records as a startup. For instance, investors will want to see your startup's financial reports. Furthermore, if you seek a business loan, you must provide clear and easy-to-read financial information so that potential investors may make an informed decision about investing in your venture.
Reasons Why Bookkeeping Is Important?
Entrepreneurs face cash flow challenges during the startup phase of their businesses. It is impossible to plan for all cash flow issues, but bookkeeping enables you to isolate the causes, such as slow-paying customers, and isolate them from impacting your bottom line.
Keeping Track Of Spending Patterns
For entrepreneurs seeking to track their spending patterns, bookkeeping provides the perfect foundation. In the absence of proper bookkeeping, startup owners would find it difficult to accomplish the following things:
Track seasonal peaks and valleys in spending
Organize your expenses by category
Reduce wasteful spending by identifying opportunities
Accurate Financial Data To Investors
You need to be prepared to provide regular financial updates to your investors if you are one of the many startup companies funded by investors. When you keep your books properly, you can produce stakeholder progress reports with ease.
Improved Forecasting Capabilities
Startups lacking any significant sales record find it challenging to forecast sales accurately. In order to start preparing your budget for next year, maintaining your books will provide you with a history of your sales.
Identification of Top Customers
It is easy for startups to identify top customers and repeat purchasers using meticulous accounting. Startups can hardly afford to ignore their top spenders and repeat customers because 20% of their customers account for 80% of their sales. Your bookkeeping service can help you stratify your customers according to the volume and frequency of their sales so that you know which customers will drive your business forward.
Many startup entrepreneurs possess the passion and drive to succeed, but their budgets do not allow them to stay within them. An owner of a startup can overspend on non-essential items if he or she lacks an effective bookkeeping system. When you have a user-friendly software platform, you can receive alerts when you approach your spending threshold, which makes it easier to stick to your budget.
The Challenge of Managing In-House Taxes
Tax preparation by yourself can seem like an affordable solution, especially for startups, but you're actually leaving money on the table if you don't check for mistakes and deduct the right amount. Changing or omitting one small detail on a tax form can easily ruin the amount of tax paid in a given year.
Outsourcing Accounting and Bookkeeping Services
Do you plan to establish your business in Dubai or the UAE?  With our help, you will be able to manage your accounts, register for VAT, and handle all your financial needs with ease, while also gaining that extra edge you need.
The right accounting services are essential for starting a business in Dubai or the UAE. All startup and ongoing business activities are covered by CZTA's comprehensive support services. Accounting and tax services from bank reconciliation to invoicing, financial reporting, and tax returns are all handled by our accounting and tax team.
Your startup company will gain the necessary foundation to flourish with our tax and accounting services. The financial health of your startup can be monitored with the help of an effective financial and accounting system. It makes sense to start using an accountant immediately when you need help with tax preparation, which involves more than just tax preparation.
If you have questions reach out to us at info@cztaxaccounting.ae